Britannia Medal Fair - March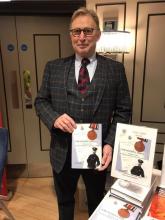 The March Britannia Medal Fair saw a busy Society table with the launch of 'For Faithful Service', Paul Brewster's new book on the Special Constabulary Long Service medal.
'For Faithful Service' was officially launched at Britannia and sold well, so well that a re-print has already been ordered.
As well as the book launch, the Membership Secretary was busy recruiting and in his haul for the day was someone who had never heard of the Society!