British Line Regiments DCM and MM Awards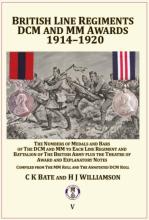 British Line Regiments DCM and MM Awards 1914 ‒ 1920 - A statistical break down
A limited edition of 300 copies 'Otherwise known as how RARE is your DCM or MM'
This is the next instalment in the Distinguished Conduct Medal and Military Medal Project by Chris Bate and Howard Williamson. It contains essential information for: collectors, dealers, regimental historians, auctioneers, genealogists and military libraries
The book represents the authors' combined knowledge, expertise and analysis of all the DCMs and MMs, undertaken over the last 25 years. This has now been distilled down into a definitive reference work that combines the figures for both medals together at a glance.
In order to produce this work, which amounts to over 146,000 awards, the authors have had to analyse, cross index and record in the region of 300,000 entries. The MM alone needed over 260,000 checks as The London Gazettes had to be cross-indexed against the
original MM cards, including all the corrections in the Gazettes. Its aim is to give serious collectors and researchers access to this information at relatively little cost and time.
The book includes the following statistics which are published for the first time:
- The breakdown of DCMs and MMs to each individual regiment within the British Army,
- For each regiment it includes the numbers awarded to each battalion,
- For each regiment and battalion the numbers awarded for each campaign is noted,
- The number of DCM/MM combinations is also included for each unit and battalion,
- There is also other unique statistical information contained within the book, particularly around the MM as follows:
- The number of first bars and second bars awarded by country and by theatre of award,
- The number of medals and first bars awarded under the terms of Army Order 193 to include: brought to notice, for escaping or attempting to escape, and for services whilst a PoW,
- A breakdown of awards of the MM by the year of the Gazette for WW1,
- A breakdown of awards of a first bar to the MM by the year of the Gazette for WW1,
- MM bar combinations for theatres of war outside France and Flanders,
- The ratio of awards between line regiments and corps,
- The proportion of MMs awarded by rank for WW1 to British line regiments.
The book will be circa 230 pages, in hard back, thread-sewn volume of A4 size and matches the authors' previous publications in the book size, quality of paper and materials used.
Its overall cost is £44 to include £6 post and packaging for the UK only. Orders outside the UK will be priced separately for postage on application.
Order by contacting Chris Bate by email at: Pagetsend@aol.com
Please provide the following details:
- Your name, email address and delivery address including postcode,
- Whether you would like a specifically numbered copy and that number.
Payment:
Please ensure payment via Paypal is done using the 'Friends and Family' option to the
following Paypal account: hilsinfrance@gmail.com
Or
By cheque payable to C K Bate at 14 Leader Close, Brixham, Devon, TQ5 9FQ
Or
BACS transfer on request