New Publication Announced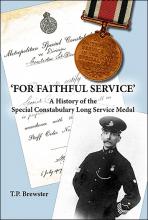 The Society is delighted to announce the publication of Paul Brewster's new book 'For Faithful Service' - A History of the Special Constabulary Long Service Medal.
Paul's new book describes in detail the origins of the medal including the struggle to get official recognition for the service given by the Special Constabulary. The unofficial medals and certificates issued by local and county authorities during and after the First World War are also listed. The history leading to the various issues of the long service medal awarded to the Ulster Special Constabulary is comprehensively covered as is the unique case for the award of this medal to the Rhodesian Special Constabulary. Other chapters deal with the history of the Specials, the numbers of medals issued and associated ephemera.
Published March 2019, 155x234mm, case bound with colour jacket, 208 pages, numerous colour and black and white illustrations, ISBN 978-0-9957505-8-6. This limited edition is priced at £17.00 to members (restricted to one copy each) and £22.00 to non-members, plus post and packing.
The buy the book click HERE.
Latest News -  For Faithful Service - Back in Stock
The initial print run of the above book sold out in record time, but I am pleased to announce that it is available again to order from our website shop. Please login to the Members' Area first to ensure you receive your Members' discount.