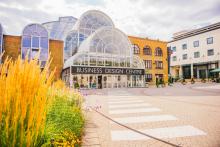 After a three-year Covid-enforced absence the OMRS physical Convention is back in a splendid, convenient new location in London. On 23-24 September 2022 Society members will once again be able to meet up, talk about medals, browse dealers' stands, attend talks, and go for a drink nearby. Remember all that – 2019 was the last time that members could do these simple things which no virtual Convention, however well-organised, could replicate. Ultimately human contact is a vital part of our hobby.

The Convention will be held in the Atrium & Gallery at the superb Business Design Centre, 52 Upper Street, Islington, London N1 0QH on Friday 23 and Saturday 24 September. The Friday evening welcome buffet, with places limited to 70, will be at the Hilton Hotel, next to the design centre, while the exhibitions, talks and medal fair will all take place on Saturday. For those who decide to make it a one-day trip on Saturday, it is a very efficient format.

Getting to the Business Design Centre is easy. Angel tube station on the Northern Line is 300 hundred yards away from the centre and is one underground stop from King's Cross/St Pancras main line station, two from Euston and four from London Bridge. For those driving, the venue is outside the Congestion Charge Zone, although members should avoid passing through the zone otherwise they will be charged. There is car parking onsite and advance booking  at https://bookings.upperstreetcarpark.co.uk/BDCentrebooking/ is recommended.

A 10% discount rate has been negotiated at the Hilton Hotel on a first-come, first-served basis and there is a Premier Inn a two minute walk away. Book as soon as possible to get the best rates. Likewise book online for the Saturday Convention by 24 August to get the cheaper £20 rate as from 25 August it rises to £25 a head for members and guests alike.

 There will be both virtual and physical exhibitions at the Convention. Entries should be submitted by 12 August. See https://www.omrs.org/conventions/exhibition-back for details.

The speaker line-up will include Pete Starling whose talk is entitled Mules, Molars, Medics and Matrons, Awards and Medals to the Army Medical Services. This will cover the two major medal collections to the Army Medical Services. Pete is former Director of the Army Medical Services Museum and author of Mistaken Gallantry – The Medical Victoria Crosses.