The Three Burma Awards by Stephen Lewis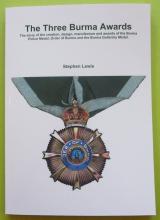 The book details the design process, manufacture and awarding of three very rare awards; between them, fewer than four hundred awards were made. The book contains the complete roll and all citations for the Burma Police Medal and the roll for all known awards of the Burma Gallantry Medal, together with the majority of the citations, the stories they tell deserve to be told and cover the period of the WWII Burma Campaign and its aftermath. "The Three Burma Awards" represents a double first as it is Steve's first book and the first book dedicated to Burma gallantry awards and in researching it Steve has extended significantly the number of known Burma awards.
The book is softback and has numerous colour illustrations, 134 pages, A4-format.
The book is not published by the OMRS but is available directly from the author. The price is £20 plus postage & packing. Copies can be reserved by emailing Steve at redcoat@mail.com