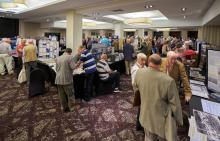 "An excellent Convention which must rank as one of the very best yet" OMRS President, Air Commodore Graham Pitchfork MBE sums up the 2017 OMRS annual Convention. 
The huge 30 per cent increase in attendance recorded last year when the Convention moved out of London for the first time to Stratford-upon-Avon was maintained this year. Despite 2016 being a tough act to follow, overall attendance went up from 415 to 427 with people coming from around the world. In 2015 – the final year in the capital – the number had dropped to 325.
The Convention began with a reception for members and guests – a new event – at the hotel on Friday evening. This proved extremely popular with 86 people attending and many of them continued their discussions in the hotel bar or nearby restaurants. It helped create a buzz that lasted throughout the weekend.
The increase in the number and quality of exhibitions on the Saturday was immediately apparent. The overall number of exhibits went up by 17.5 per cent to 40. The vast majority of these – 35 – were staged by Society members, an increase of 20.5 per cent. Only a few years ago the tradition of exhibiting at the OMRS Convention appeared to be in terminal decline, but has since recovered due to the introduction of the new format and standardised exhibiting criteria.
Speakers at this year's Convention were David Langrish, Head of Public History at The National Archives, on 'Commemorating Conscription: Papers of the Middlesex Military Service Appeal', Gurinder Singh Mann, Director of the Sikh Museum Initiative, on 'Anglo-Sikh Wars: A Journey into Sikh Relics and Artefacts in the UK', and James Davies from the Ministry of Defence Medals Office, on 'Honouring History and Inspiring the Future.'
The dinner on Saturday night proved popular with 111 attending.
At the Sunday Medal Fair the number of dealers increased slightly from 29 to 30 despite the withdrawal of three regulars who wanted to come but were unable to get to the event.