New Publication Announced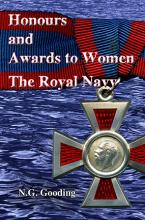 The Society is delighted to announce the publication of Norman Gooding's new book Honours and Awards to Women The Royal Navy.
Norman Gooding is one of Britain's leading experts on honours and awards to women, in addition to being a past President and a long-serving General Secretary of the Orders and Medals Research Society. Honours and Awards to Women The Royal Navy is his third work in a series of such books. Divided into sections on Queen Alexandra's Royal Naval Nursing Service, the Voluntary Aid Detachments who assisted them, the Women's Royal Naval Service and the Women's Royal Naval Reserve, it contains the fruits of a lifetime's research inone easy-to-use volume. There are full rolls of all honours bestowed on those who served in the separate women's sections of the Royal Navy until these were absorbed into the main body of the service in modern times. There is also a list of those who received long service medals and a mass of information about campaign medals. The book is a unique reference work.
Available in late March 2017, 155mm x 234mm, soft bound with colour cover, 132 pages, numerous black and white illustrations, ISBN 978-0-9568266-9-5. This limited edition is priced at £5.00 to members (restricted to one copy each) and £10.00 to non-members, plus post and packing. Order and pay using credit and debit cards via the Society website: www.omrs.org Members and non-members may also order by post with a cheque (made payable to 'OMRS') via the General Secretary (enquiries to: generalsecretary@omrs.org): PO Box 1220, Spalding, PE11 9FZ, United Kingdom.