Convention Exhibition Breaks Records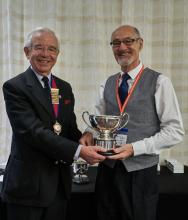 Convention exhibition breaks records in both quantity and quality - Head Judge Dr Richard Emsley said 'the judges knew they had their work cut out based on the increase in numbers, but when we saw the quality we knew we were going to have tough day. When you see a top class exhibit, doing justice to the effort put in weighs heavily on the whole judging team'.
The quality of the exhibis showed through with 13 out of 29 competitive exhibits being awarded gold medals.
The Best in Show award went to Mark Collins (pictured above receiving his trophy from OMRS President, Air Commodore Graham Pitchfork) – better known in the medal collecting fraternity as 'Taff' - for his superbly researched exhibit 'Long Service & Good Conduct Medals to the 41st (The Welsh) Regiment 1830-1881'. For this he had compiled a nominal roll of recipients with biographies and medal entitlements.
The best first-time exhibitor was Meurig Jones with 'British Empire Casualties of the Anglo-Boer War 1899-1902'.
Members attending the Convention selected Alan Seldon's 'Executed as British Spies in World War One' for the members' Choice Award. This superb exhibition about Belgians executed by the Germans for working for the British between 1914 and 1918 exemplified the high standard of research on show this year.
But probably the biggest cheer of the day was for the announcement that Lionel Digby, who has exhibited at every Convention since the event was founded in 1978, had won his first-ever Gold Medal. 'The Moonlight Charge' featured medals and militaria from his magnificent Household Cavalry collection.
A full listing of exhibits and results will follow.